Dollar index pauses at 16-month high, with uptrend expected to dominate going forward
---
US inflation pressure looks likely to maintain the push on the Fed to tighten, with the dollar index reaching a 16-month high.
Source: Bloomberg
The Federal Open Market Committee (FOMC) decision to kick off its tapering phase this month brings a focus on US monetary policy that could help drive the dollar higher.
While the likes of the UK (3.1%), Australia (3%), eurozone (4.1%), and Canada (4.4%) undoubtedly have elevated inflation figures, it is the US that continues to lead the way on that front (6.2%).
While markets are widely expecting to see tapering complete in June 2022 and a rate rise in that same month, continued inflation pressures could bring a ramp up in that process.
With that in mind, traders will be keeping a close eye out for pricing pressures over the coming months. Meanwhile, this week sees the latest consumer price index (CPI) figures from the UK and Canada.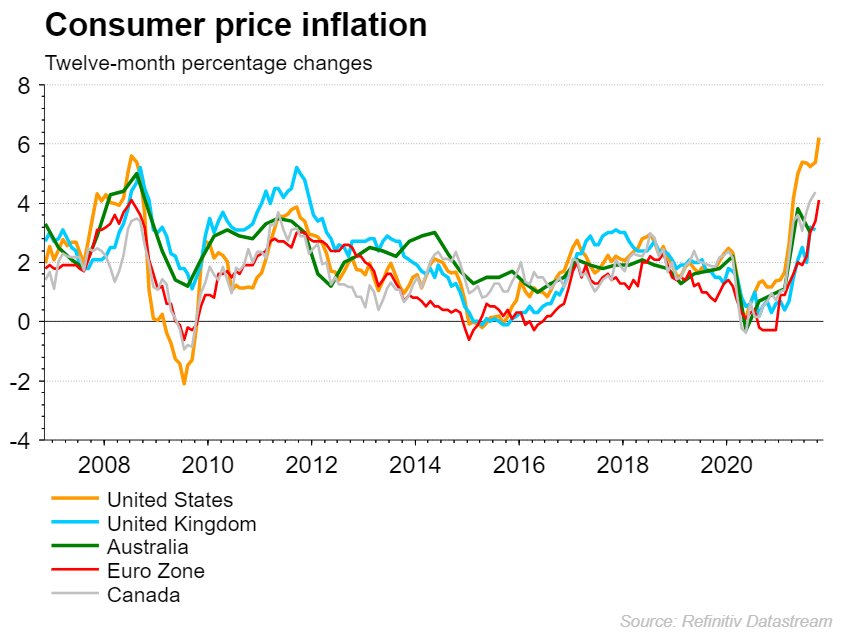 The dollar index hit a 16-month high last week, with the greenback building off the back of a double bottom formation completed in September. That double bottom came off the back of a decline into the key 87.93-89.71 support zone.
While we are now well into overbought territory, the stochastic continues to push higher with little sign of tightening between the stochastic and signal lines.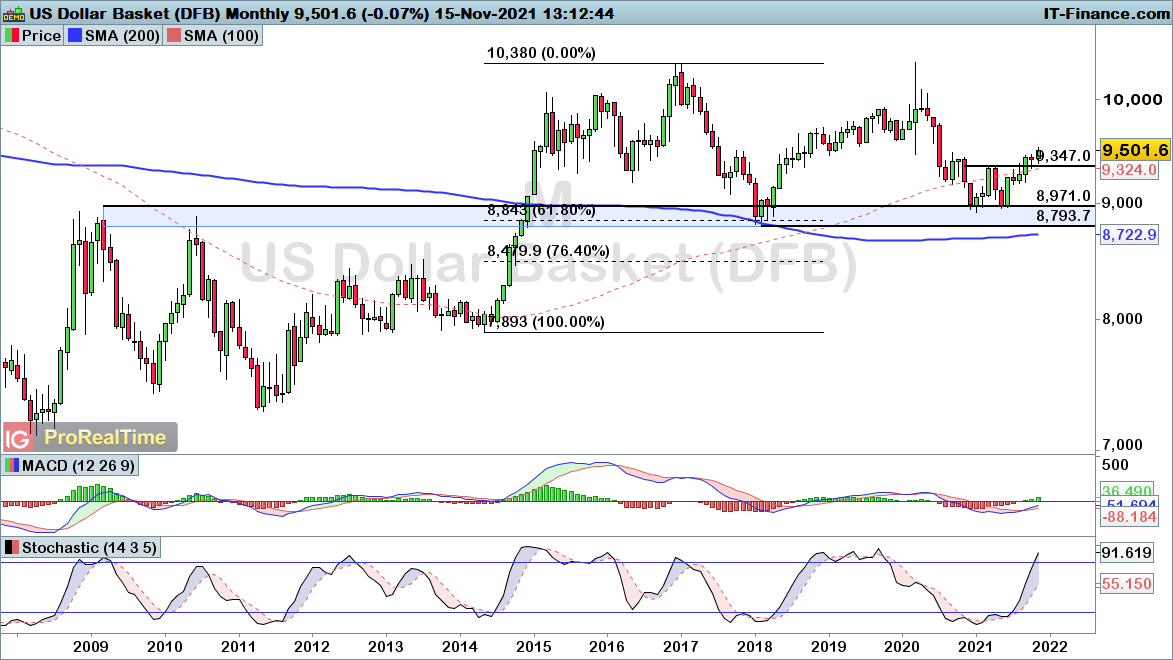 Source: ProRealTime
The daily chart highlights how price has started to fade somewhat after this latest surge, with the stochastic well into overbought territory.
This could bring a bearish phase if we see the stochastic break back below the 80 threshold. Whether we see that pullback remains to be seen.
Ultimately we do have a clear preference for further upside before long given the uptrend in place throughout the second half of 2021. As such, any near-term downside would be deemed as a precursor to another leg higher unless we break back below the October low of 93.23.
Source: ProRealTime